Drive return with PMC Analytics Cash Management
PMC Analytics Cash Management
PMC Analytics Cash Management is a complete online solution to help you:
Manage cash effectively through periods of liquidity stress
Produce accurate long-term cash forecasts
Optimise deployment of cash resources
Reduce foreign currency risk
Drive EBITDA
Full daily visibility and reporting of cash balances
Robust cash forecasting and stress-testing functionality
Advanced variance analysis to track daily performance against forecast
Visibility of entity-level and group-wide consolidated FX exposure
Automated importing of transaction data through direct links to global bank accounts
Automated tracking and reconciliation of intercompany cash flows
A suite of intuitive dashboards and reports provides full visibility of consolidated daily cash positions and future requirements.
PMCA Cash Management makes it quick and easy to carry out detailed actual-versus-forecast variance analysis, allowing you to continuously improve the accuracy of your cash forecasts.

How it works
PMC Analytics Cash Management automates the time consuming and labour-intensive process of bank reporting and cash forecasting. It connects with your internal systems, your bank accounts and your people, automating the process of data collection and consolidation to give you daily reporting and analysis
It is setup and configured in around 2-3 weeks by our Treasury specialists who can operate remotely if required and with limited management distraction.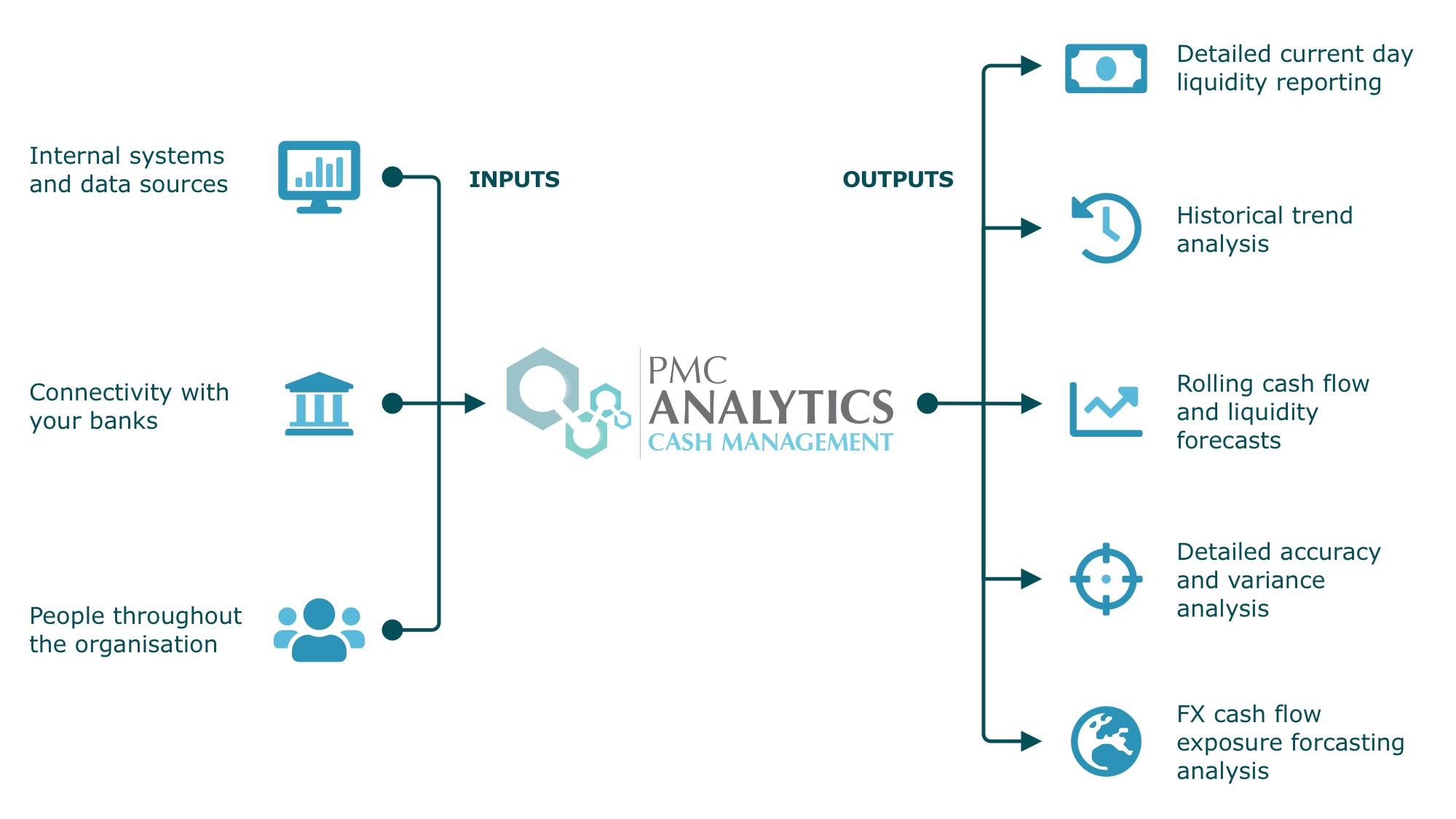 Case Study:  $5m Cash Release
A manufacturer of medical devices required assistance with their cash forecasting processes which were manual, inefficient and insufficient to enable reliable decision making. Implementing PMCA Cash Management enabled the company to release over $5m in excess cash, reduce costs and improve working capital management.
Case Study:  $10m Cash Savings; $5m Working Capital Improvements
A medical aesthetics business under Private Equity ownership implemented PMCA Cash Management to enable the rapid compilation of 13 week global cash forecasts for company and sponsor consumption. Implementing PMCA Cash Management enabled savings of over $10m in one quarter, a 40% reduction in cash forecasting FTE time and $5m in working capital improvements.