Work with PMC and you will be in safe and experienced hands. Our extensive Treasury knowledge has already successfully delivered solutions to over 500 high profile organisations across the globe.
Treasury Solutions
How we can help
Treasury Solutions
---
How we add value
For your company to perform effectively, you will need to fully understand your corporate treasury risks and how they are generated in your business. Our expertise can assist you in establishing, running and improving all aspects of your Treasury operations and infrastructure, with practical, best practice solutions appropriate for the size and scope of the company's requirements.
With over 34 years' experience providing treasury solutions, we are able to work at a client's request and provide a unique approach to all engagements:
Specialist hands-on approach
We have an expert team of Treasury practitioners with unrivalled depth & breadth of experience across all types of OT assignments.
We take responsibility for establishing and running treasury functions on an interim basis.
We do more than just project manage and advise, we believe in practical implementation by having a hands-on management & operational practitioner approach.
We bring the highest of standards not only through our vast experience but also by efficiently delivering practical and flexible proven solutions.
We drive productivity and protect your budget by matching resource requirements specific to your needs.
As a private company, there are no regulatory or independence restrictions to the type of roles or services provide.
We provide global coverage with resources across Europe, North America and Australasia.
Consulting projects
We work collaboratively to improve your understanding, reporting and management of a specific financial risk including:
Liquidity management and cashflow forecasting
Treasury due diligence
Treasury diagnostic
FX optimization
Outsource Treasury Support
Working capital management
Interim treasury function
Debt management and compliance
Treasury systems selection and implementation
Treasury resource and "onboarding"
Cash management and banking optimisation
When you need our expertise
The need for our services is triggered by a strategic event, such as:
An acquisition, merger or divestment/carve out
The introduction of a new CFO or Treasurer
The development of a new business line or expansion into new geographical territory
The issuance of new debt
PMC are experts in all aspects of treasury. Call us and we will be happy to answer any questions you might have.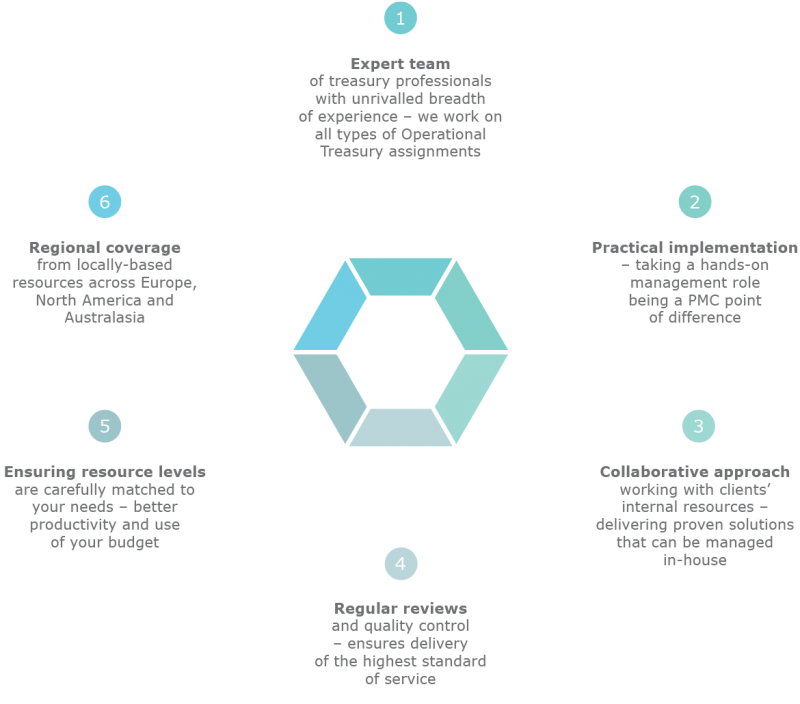 PMC has enabled us to set up a new treasury function including foreign exchange and interest rate hedges in a very short time period and at the highest possible standard. The deep knowledge base and varied experience of the PMC team, covering all treasury areas, has been crucial in guiding NDS through the big change of becoming an independent private equity backed company.


Yael Fainaro Vice President, Corporate Development and Treasurer, NDS Ltd.